PROGRAM

Bulldog by Andrea Venet
…hence the term, well adjusted. by Robert Dillon
Narratology by Hunter Ewen
the season of Big rain (Mbura ya Njahĩ) by Nyokabi Kariũki
R.I.N. by Andys Skordis

Third Coast Percussion's "Currents" is made possible by the generous support of Sidney K. Robinson, and by Third Coast Percussion fans like you. Thank you!
Third Coast Percussion's Currents Creative Partnership is made possible by the DEW Foundation, the Sargent Family Foundation, and Louise K. Smith.
Third Coast Percussion's programs are supported by The MacArthur Funds for Arts and Culture at Prince Charitable Trust, The Illinois Arts Council Agency, the City of Chicago Department of Cultural Affairs and Special Events, the Aaron Copland Fund for Music, the Amphion Foundation, the Gaylord and Dorothy Donnelley Foundation, and the Alice M. Ditson Fund at Columbia University.
---
PROGRAM NOTES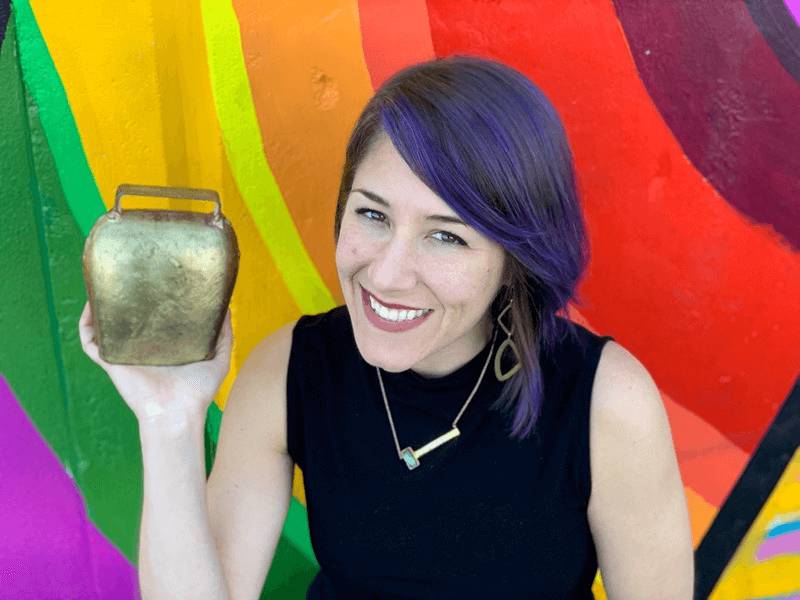 Dr. Andrea Venet is a percussion artist, educator, and composer specializing in contemporary and classical genres. She is Associate Professor of Percussion at the University of North Florida where she directs the UNF percussion ensemble, teaches applied lessons, pedagogy, methods and percussion literature. As an international soloist, chamber musician, and clinician, she maintains an active performance schedule with appointments in Europe, Japan, Canada, and Trinidad. Andrea's compositions and arrangements can be found self-published via her website, through Keyboard Percussion Publications (KPP), and Tapspace, in addition to articles published with Percussive Notes and Rhythm!Scene Journals. Andrea is an artist for Malletech, Black Swamp Percussion, Remo, and DREAM Cymbals. She currently serves as the Percussive Arts Society Florida Chapter President and on the Board of Directors for The Green Vibes Project.
"My beloved English bulldog, Shosti, is no stranger to drums and percussion. She has been surrounded by these sounds her whole life. She lays under the marimba while I practice and refuses to be far from sight when I'm playing drums at home. Added bonus: most of the things she does are rhythmic with some level of consistency. For example, Shosti drinks water in combinations of 7/8 and 9/8, which is represented at letter B. She witnesses a lot of creativity that happens at home and much of it is a direct result of interacting with her in idle moments because I am a huge dork. Consequently, one hilarious and interesting thing about her is that she loves paradiddles. Whether it be drumset, or a multi-setup, or tapping a groove on nearby objects, it instantly sets her off into a boisterous "play mode" frenzy, even from a dead-sleep. She also gets very fired up when hearing Steve Reich's "Clapping Music"!
"Bulldog" is inspired by Shosti and our jam time. The content of the piece is based on paradiddles in various forms, and includes rhythmic grooves and patterns that represent things I associate with the bulldog "freestyle". Within paradiddle groupings of different lengths, there are variations of voicing, sticking, and patterns. One versatile thing about paradiddle language are the funky grooves that emerge when extracting one voice/hand, especially when juxtaposing over a contrasting but steady pulse. Like an English bulldog, the piece is intended to be fun, sturdy, thick, short and sweet!"

–Andrea Venet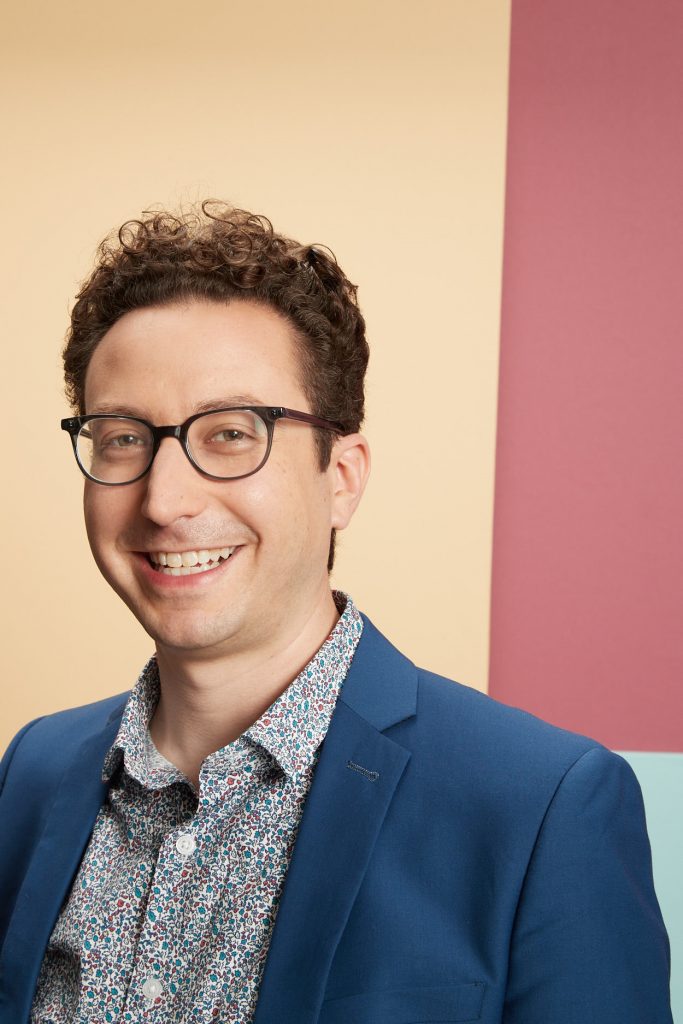 Third Coast Percussion member Robert Dillon has enjoyed a career as an orchestral, solo and chamber musician, as well as an educator for all ages, and since college, has pursued music composition as an additional expressive avenue. His music appears on TCP's just-released Archetypes album as well as the Grammy-nominated 2019 release Perpetulum, and his music has been performed by university percussion ensembles across the country and overseas.
"I find the hardest part of writing a new piece is getting started. I began this piece in 2017 with a sound I wanted to explore — a rapid movement between many different instruments and objects, all with the same pitch. I liked the idea that one note would come through clearly, even while the timbres were changing too quickly for the listener's ear to hold on to any one sound.

The hardest part is getting started, and once I had an initial sonic idea — a single note made of many colors — I could begin building on that one note to form harmonies, and with each new step, more and more possibilities opened up.

I do find the hardest part of writing a new piece is getting started, but sometimes, even once I feel sure about where to begin, I can be paralyzed by the options of where to go next. The second step is when I actually have to decide what the piece is "about," or whether there's even really a piece there at all.

I find the hardest part of writing a new piece is getting started, but often the part that excites me the most is a big-picture idea about the form or structure of a piece. I really like it when a book or movie or a tv show organizes its story in a clever way. Part of the eternal charm of "Groundhog Day," for instance, is the way its imaginative premise speaks to the mundane challenges of our everyday lives. Many of our journeys unfold not in heroic arcs with inevitable ends, but in familiar cycles we have to repeat, again and again, until we figure out how to escape them, or at least until how we get them to lead where we want to go."

–Robert Dillon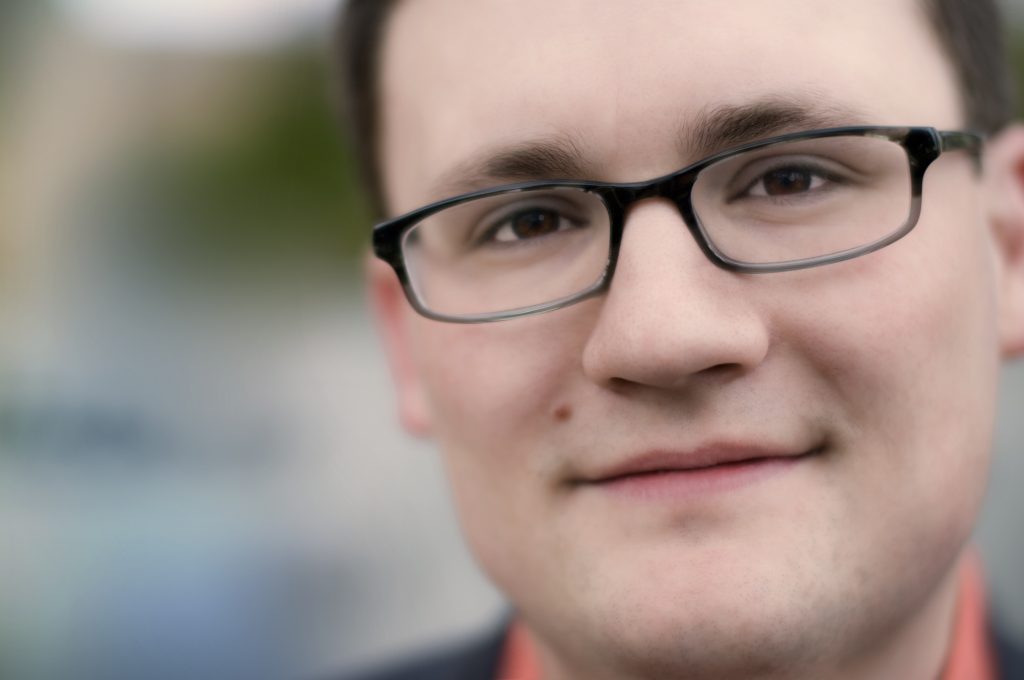 Hunter Ewen is a dramatic composer and educator. During the day, Dr. Ewen designs systems for artificially intelligent creativity. At night, he masks up and fights crime with loud noises and strange ideas. His work rails against the waning borders of science and art—meaning and meaninglessness. Ewen values clamor and deviance. Clarity and frenzy. Space. Yowls and yips and screams that masquerade as music. He's worked some of the same jobs and won some of the same awards as other composers too.
"For percussion quartet and pre-recorded narrator, Narratology is a reflection on ambiguity and lack of autonomy in our public discourse. We Americans are slowly becoming more divided, more political, and more contentious. Society is forcing us into lockstep. We're having to choose sides—and we keep getting quieter…and angrier. It's hard to disagree peacefully anymore. So how can we have a real conversation if we just repeat talking points? How can we find our own voice in the 21st century, and how can we reclaim the strength to speak up? Narratology is what happens when we discover our patterns and start pushing back against the systems that deny our autonomy."

–Hunter Ewen
Nyokabi Kariũki (b. 1998, she/her) is a Kenyan composer and performer based between New York, Maryland and Nairobi. Her sonic imagination is ever-evolving, with compositions ranging from classical contemporary to choral music, film, experimental pop; and further includes explorations into sound art, electronics, and (East) African musical traditions. She is dedicated to using composition as a tool to not only re-discover the stories of her culture, but also to highlight its significance, and contribute to the preservation of African and Black stories.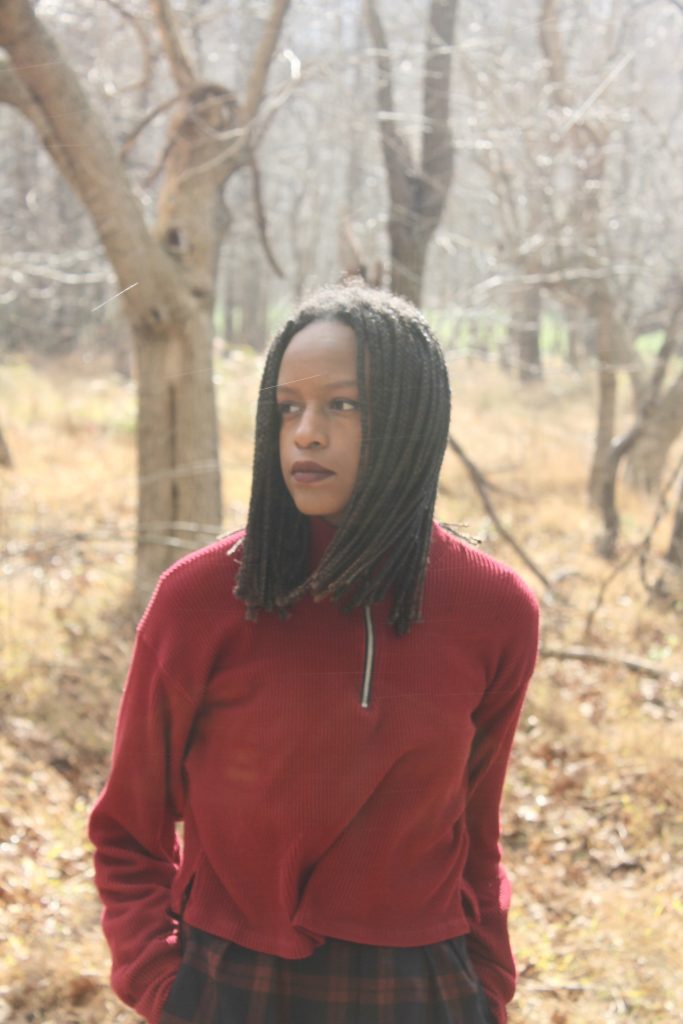 Nyokabi's works have been performed across the United States and internationally, and she has been commissioned by various performers and ensembles including Tetractys New Music, the Heartland Marimba Quartet, piano duo Chromic, and the Brooklyn Youth Chorus Men's Ensemble. Most recently, she was the recipient of the 2021 Hearsay 'Art' Award, which celebrated her piece 'A Walk Through My Cũcũ's Farm' as "audio that transports, transforms, evokes, immerses, transports".
"I never hesitate to look for guidance and inspiration for my pieces in home, Kenya. My ethnic group, the Kikuyu, are farmers, and seasons are based on planting and harvest. The season of 'big rain' is known as Mbura ya Njahi, which refers to the rain that comes that allows the beans to grow (usually from April to July). When writing the piece, I found myself thinking of the sound of the tapping of rain on the roof of our home in Kirinyaga, where my father and his sisters grew up. It is one of my most favourite, most peaceful places to be."

–Nyokabi Kariũki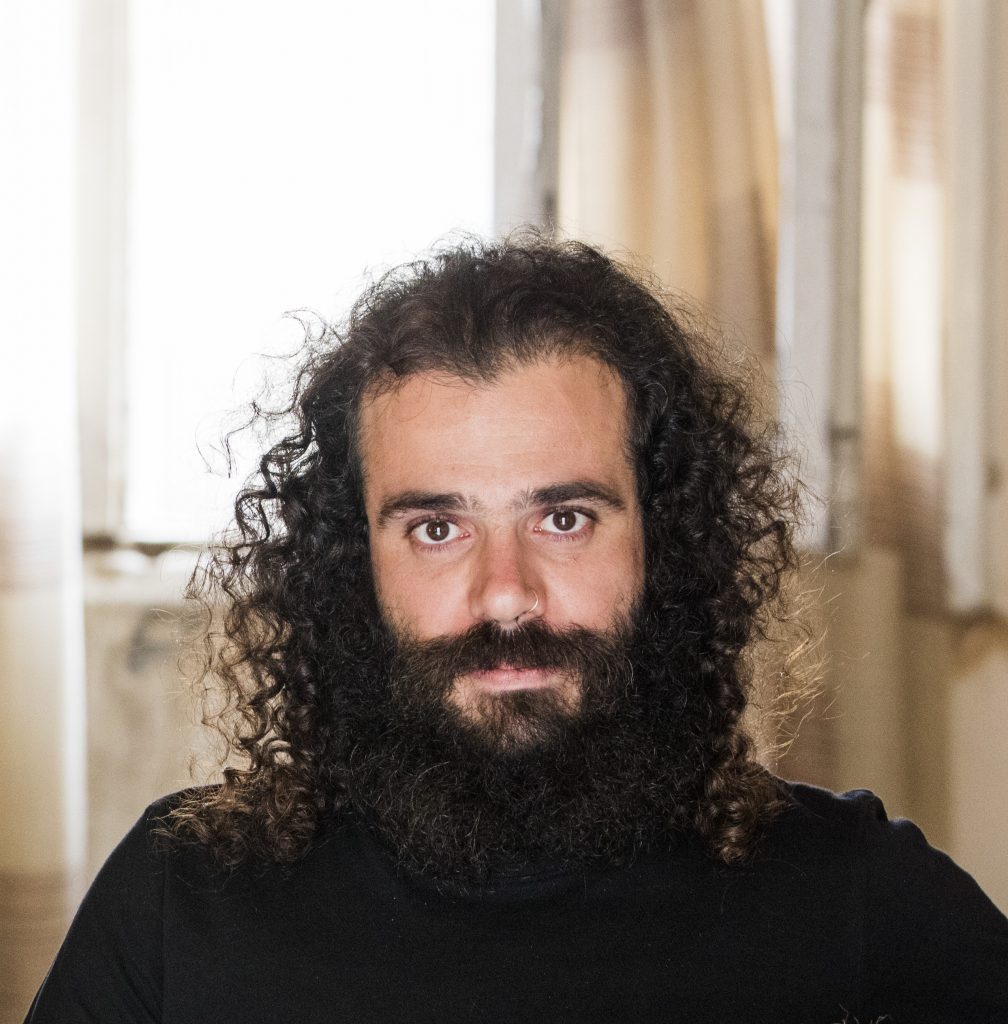 Andys Skordis (Cyprus, b. 1983) is a composer of contemporary music, with special emphasis on large scale works, music theatre and site specific pieces. His music is often characterized as archaic and dark, resulting in performances which are frequently compared with rituals or ceremonial occurrences. His work list includes operas, orchestral and chamber pieces, Gamelan music, vocal works, as well as music for dance, theatre and short films. In addition, he has created various music theatre performances in site specific locations like quarries, temples, abandoned buildings, forests, floating stages, and more. Recently he was awarded with the Black Pencil Prize in 2020. Besides composing, he is an artistic collaborator with the Greek National opera, the music curator of Xarkis festival and the guitarist of Monsieur Doumani, a multi awarded trio from Cyprus.
"'R.I.N' is inspired by a process where one goes into a deeper state of existence…an introverted state, going deeper into their own body and soul. The piece is divided into two movements, where the first one resembles the journey of going deeper in yourself and the second reflects the state when someone has arrived that state; in other words the two movements could be called as descent and exploration. The piece finishes when the whole process has finished, returning back into an altered state of mind and ultimately, existence.

The four percussionists represent a single entity broken into four pieces, where absolute harmony in all aspects should function in order for the collective "ego" to go through the entire process. The bass drum represents our mind, the nucleus of ourself which is broken in other pieces, and so on.

Lastly, as a personal note for the piece, I tried to engage percussion instruments found in various cultures around the world, thus reflecting my personal journey as a composer, expressing timbre and patterns from the various cultures I have studied as a musician, to arrive at the present time. The piece is dedicated to Third Coast Percussion, and our entire journey in creating this piece from the very beginning."

–Andys Skordis
---
Third Coast Percussion's programs are supported by The MacArthur Funds for Arts and Culture at Prince Charitable Trust, The Illinois Arts Council Agency, the City of Chicago Department of Cultural Affairs and Special Events, the Aaron Copland Fund for Music, the Amphion Foundation, the Gaylord and Dorothy Donnelley Foundation, and the Alice M. Ditson Fund at Columbia University.